Psychosocial protection for Iraqi refugee children and their families
ECHO
/
Terre des hommes
The war in Iraq and the sectarian violences that have followed have provoked a massive exile of Iraqis in neighbouring Syria and Jordan. First settled for a short stay, very few refugees have returned to Iraq as the security isn't ensured. Their savings having been used, with no job opportunity nor real possibility of going back to Iraq or further resettlement abroad, the Iraqi refugees feel stranded. The suffering and the violence of the war, the exile, the lack of perspective have created a situation of deep despair of which their children - sometimes born in exile - are the first victims.
---
the project ▴
Despite their number, the Iraqi refugees are not settled in camps but spread over the poor urban areas of Amman or Damas. Their main concern is to stay invisible. Confined in the family, childrens need to express their feelings, to open up and... to have entertainment, to play, to live far from the very sad concerns their parents might have. Marked by the war, violence - sometimes torture and death - frustration of exile,... the parents can have difficulties overcoming their troubles and build a balanced family relationship.
Terre des hommes
in Jordan and its implementing partners in Syria welcome these families and are listening to them. Psychologists have consultations with the family members in order to determine the most adapted individual and collective monitoring. Moreover, the children can take part in group workshops in the centres with other children of their age: painting, dance, theatre,... Helping children to express their feelings and parents to cope with their suffering, the psychosocial help improves the life of the families and contribute in giving hope to the iraqi children refugees.
▲
---
the donor : ECHO ▴
recorded by webcam from Amman, Jordan
Heinke Veit
Regional Information Officer of
ECHO
, Amman Jordan
European Commission Directorate General for Humanitarian Aid
ec.europa.eu/echo
▲
---
the organisation : Terre des hommes ▴
Since its creation in 1960, the mission of
Terre des hommes
(Tdh) has been to come to the aid of children in need. It endeavours at all times to defend the rights of children, in times of war and natural disasters, or in less publicised situations of distress.
Today, the
Terre des hommes
Foundation is a significant force among children's aid organisations in Switzerland and throughout the world. Tdh has development projects and emergency relief programmes in more than 30 countries. This engagement is financed by individual and institutional donations, of which 85% flows directly into the Tdh programmes.
Over the last fifty years,
Terre des hommes
has developed in two core areas: healthcare and child protection. Every year, Tdh offers sustainable solutions and a better future for over one million children and their relatives.
www.tdh.ch
▲
---
testimonies ▴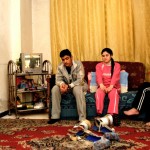 J. family. Damascus, Syria february 2011
J. was abducted and detained by the police for 4 days. 6 members of his family have been killed by the militias. During the fight J. and his daughter were shot: their bodies are still riddled with bullets. They will never go back to Iraq. The young girl, deeply marked by what she went through, can walk only with the help of her splints. She got orthopedic help from "TdH Syrie". She wishes to receive drawing lessons at home in order to recover a sort of a life.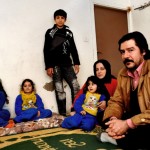 M. family. Damascus, Syria february 2011
M. was a member of Saddam Hussein's army. After the fall of the regime, he was abducted by the Mahdi Army and tortured. His three brothers were killed. He suffers from loss of memory and depression. He is afraid, even in Damascus. He has been threatened on his Syrian mobile: "this is not over, we will kill you". Since this call, the children have stopped going to school. They have no passport and are illegal in Syria. To get a passport, they should contact the Iraqi authority: too dangerous for M.
The children need to follow the activities to escape a while from the heavy atmosphere at home.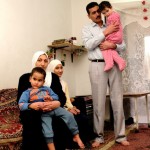 I. family. Damascus, Syria february 2011
I. and his family have fled Iraq for safety reasons. In Syria, I. has no right to work and he stays at home all day long. They have had 11 children, among which 7 stillborn. 3 are heavily handicapped and only one daughter is healthy. The mother wants to have more and more children because "maybe the next will be healthy". The atmosphere at home is very oppressive and the daughter is happy to join the activities with youngsters of her age.
H.K. family. Damascus, Syria february 2011
H.K. is alone with her two daughters. Her husband - originated from Basrah is missing. Because of the violence, she left Iraq and now lives in a room made of concrete blocks on the top of a building in Damascus' suburbs. During rainy days, the water comes into their room. She gets no help, even from her Syrian family. The discussions with the psychologist help her "to have some self-confidence, to talk and express what (she) has in mind".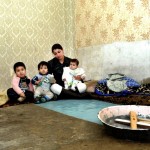 H. family. Damascus, Syria, february 2011
J.'s husband disappeared in Iraq seven months ago. She has no news nor any contact with her family in Iraq. She lives alone with her three very young children in two naked rooms with virtually nothing and no income. Some Syrian friends help her, providing some food. She makes a bone fire in the appartment to heat it for a while. She has just been in touch with the relief organisations and should get help very soon.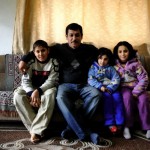 Abu Ahmed family. Amman, Jordan february 2011
Abu Ahmed was working for the Ministry of Agriculture as an engineer. He resigned after Saddam Hussein's fall as it was dangerous to be associated with the state. In 2006, he was attacked and wounded by the militias. The family then decided to move to Jordan for a while. In the mean time, their house has been sacked by the militias and the safety conditions of Iraq have worsened. They've lost everything: job, house, belongings, health care,... and "a lot of time, doing nothing". The living conditons are difficult: "Here, we even have to pay for the water!" To survive, Abu Ahmed does small labor jobs. But as he has no right to work, "the Iraqi are easily exploited: low wages or.... no wages at all". He takes part in the "support group" organised by TdH which allows him to lower his stress and break his loneliness. The children come very often to the activities: "they get the socialisation they had lost".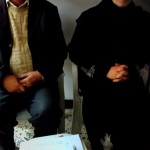 Abu Leith family. Amman, Jordan february 2011
Abu Leith is in Jordan since 1996: emprisoned and tortured twice by Saddam's regime, he fled with his first wife. His second wife had to wait until 2000 to join him but she had to leave all her diplomas. After the fall of Saddam Hussein, she decided to go back to Iraq in order to recover her diplomas and be able to work as a doctor in Jordan. After crossing the border, they were attacked: they were shot at and she was wounded. Fortunately, they could escape and reach Baghdad. From an influent opposant's family, she was proposed to join a party founded by her uncles. They were sentenced to death by Saddam. She refused and started to get threatened. Her 8 year old girl was kidnapped. In order to pay the 35.000$ ransom, she had to sell everything and borrow money. The girl was released in an execution mascarade but she had been tortured: her tongue was cut. They went back to Jordan. In Iraq, Abu Leith first wife's daughter was kidnapped and killed, her brother is still missing. His niece has been killed and their house in Baghdad bombed. He says his ennemies from the time of Saddam's regime are still after him: he was beaten in his appartement and two of his children were beaten in the street by Iraqis. He has lost all self-confidence as he could not protect his family. He and his daughter have been referred by Tdh to the CVT (Centre for Victims of Violence) and all the family is followed by the psychologists of the center.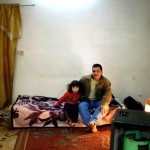 R. family. Amman, Jordan february 2011
In 2007, R. had a meat business in Basrah. His brother was an M.P. and his brother-in-law was working with the US army. Having been threatened by gangs and ransomed, he first fled to Egypt with his family. On their way to the airport, they were attacked by militias. Many people were killed. Moreover, the police took all his belongings. After 2 years - his extended family having moved to northern Iraq - they decided to go back. After his return, he was abducted by Al-Qaeda. They wanted him to give informations about his brothers: kept in a cellar in an area called "Kandahar", tortured, hanged by the wrists on one leg for a month,... Some of the prisonners were killed, one woman - translator for the US - was raped and beaten to death in front of them. One day, the building was shelled and they could escape. The family finally exiled in Jordan and will probably never go back to Iraq. "Iraq will never be the same". He has been referred by TdH to the CVT (Centre for Victims of Torture) and his children are getting the support of psychologists and social workers of the center. They will probably be resettled in the USA. "We want law and order and a safe place for the children".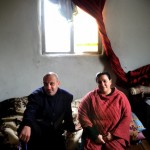 Nejem, Soha and their children. Amman, Jordan
The family is sabean and was running a spice shop in a mixed area of Baghdad. When the sectarian violence started, the Sabean were targeted by militias. Traditionally gold merchants, many of them were abducted for ransom. Nejem's brother was abducted and released against 10.000$. He had to flee to Syria and his family was harassed - the grand-father was shot at - and had to move to another area. Hiding for two months, they finally exiled to Jordan without any savings nor belongings. Their family helped them to settle in Amman and they get help from their neighbours - Iraqi and Jordanian. They feel safe: they like to be isolated and unknown, but it's hard to cope with the fact that they have lost everything. They will never go back to Iraq and are expecting to be resettled in the USA. The children are getting support from TdH and take part in the activities.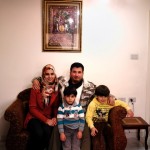 Athir and family. Amman, Jordan february 2011
Athir had started a small cell phone business after the fall of Saddam. Having a sunni connoted name and living in a shiite area, he was harassed by militias: they shot at his house. One day, some police have threatened them: his wife - then pregnant - started bleeding. They decided to leave for Jordan for a while. Having used all their savings in Jordan, they had to move to a poorer area, to rent a room on a roof. Athir was a black worker on a vegetable lorry for a very low wage. Then he volunteered in an NGO helping fellow Iraqis. He learned how satisfying it was to help others: "being a volunteer, I am not assisted any more, I am an actor of my life and I can help those who need it". Athir is now a volunteer at TdH.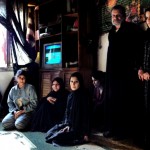 S.Z. family. Damascus, Syria february 2011
Shiite family living in a poor area on the outskirts of Damascus. The appartment is very tiny for this family of 11. Moreover, completely frightened, they leave the appartment as little as possible. Inside, the poultry is running freely. They left Iraq and its violence in 2003 and went back in 2007. During their brief stay, one of the daughters was raped. They went back to Damascus. Another daughter was married to a man that appeared to belong to the wrong clan according to their extended family. Also, one of the daughters made a "pleasure marriage". For all these reasons, their family in Iraq wants the 3 girls dead. As their father refused, all the family is now facing a death sentence by their own. Just one boy is attending school. The children go out only to take part in the activities.
▲
---